In the Meet the Team series, we'll introduce you to Bull City Learning's instructional design staff. They'll share professional insights, passion projects, and recommendations. This week, we sat down with Callie Carter, one of the lead instructional designers for Bull City Learning's life sciences sister, Bull City Blue.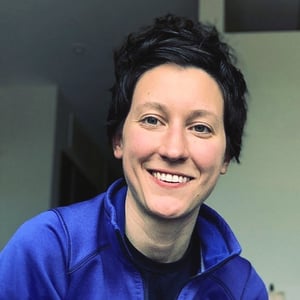 Tell me about the most creative approach you've ever taken to solving a business challenge.
CC: I've turned to some unconventional sources before to spark ideas. For example, when I was once struggling to come up with a creative theme for an e-module, I looked up some classic educational computer games. I loved computer class growing up, and many of those games from the '90s were so well designed. As a kid, it didn't feel like I was learning basic reading and math skills – I just enjoyed playing the game.

When I'm trying to come up with a unique activity, or figuring out a new scoring mechanism, I'll sometimes google those games for inspiration. I often come away with new ideas (and definitely some nostalgia).
What kinds of learning solutions inspire your work? If you were to learn a new skill, where do you go?
CC: When I'm learning a new skill, I like to see if it's offered as an online class. As part of my professional development plan, I recently took a class through ATD on designing visuals for e-learning, and I'll be taking another class on evidence-based games.

I also get to sign up for a non-work-related class, so naturally I have a cooking class lined up (a MasterClass from Alice Waters on "The Art of Home Cooking"). I'm also interested in learning more about how technology is driving instructional design – but for that, I can just go to other instructional designers on our team (I'm looking at you, Shantel Smith).
What's a favorite project that you've worked on?
CC: One of the projects I'm currently working on is already a favorite. The client works in a complex therapeutic area, and their learners need to be confident in navigating clinical discussions with healthcare providers. We're designing a series of case studies where the learners will get to step into the shoes of these providers and see how they make diagnostic and treatment decisions. The learners will basically get to play the role of a doctor in a controlled environment, and it has been a lot of fun to write.
You've been in the life science training space for over 8 years now. What's changed in the industry over this time period and what training trends do you spot on the horizon?

CC: When I first started in this space, it wasn't unusual to see hour-long e-modules. They weren't necessarily dense or dry – they were just LONG. There was hardly any use of video. And, the push for iPad-compatible training was just beginning.
Fast-forward to today: Training is now bite-sized, often includes video, and is much more mobile. Microlearning is a hot topic for a reason – there's just too much competition for the modern learner's attention. We're all so easily distracted (not just millennials), and training has had to adapt.
Looking to the near future, I think microlearning will become even more wide-spread. I'm also very interested to see what happens as AR/VR continues to evolve, and how that could shape the training space.
How do you approach ID challenges now compared to when you first started your career?
CC: On the one hand, I'm more confident at making suggestions and coming up with solutions than I was at the beginning of my career. But at the same time, I'm much more active in seeking out advice and collaborating with my teammates. I used to be too reserved to ask for help, and I'd burn a lot of energy trying to solve challenges by myself. But now, brainstorming with other IDs is one of my favorite things to do, and our team encourages it. We're all wired so differently, and we all have our own strengths. That's definitely something I try to take advantage of whenever I can.
What keeps you busy outside of work?
Exploring Durham! I just moved downtown so that I could be close to the office, and it's such a vibrant place. Other things that keep me busy include running and my Netflix queue.